History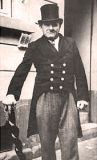 The "Fremder Freiheitsschacht" was founded in Bern, Switzerland by Hermann Schäfer and 21 other free brick-layers. Until the first congregation it was called "Fremder Pisspottschacht." (A piss-pot is just what it means). The pisspott was cheaper than glass-boots,  that were used to drink beer. As they were unsatisfied with the title, the name "Fremder Freiheitsschacht "was installed upon the first congregation.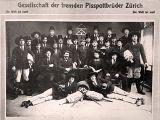 In the 1914 the "Fremder Spinnschacht" made up of almost exclusively carpenters joined us. Many of our young brothers died on the battlefields of the first world war. After the war the trip was possible again and starvation drove many men to choose the journey. Work was scarce, the men had live on the mercy of their fellow citizens. Times were changing for the better, but not for long. Many of our brothers have gone to concentration-camps, because they had to be members of a workers party.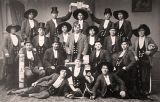 The "Fremder Freiheitsschacht" was not wanted by Nazi-leadership, so the journeymen had to secretly conduct their tradition. Near the end of the war it was nearly impossible to travel and again many of our brothers died on the fronts. After the war travelling started again, but the division of Germany into east and west brought new hardships.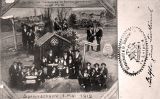 In the east travelling was again prohibited so that many men crossed the border, while it was possible. It was a time of rebuilding what the war had destroyed, the "Wirtschaftswunder" came about and many young construction workers set out to begin their trip.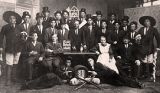 Until the 70´s, no young men were willing to begin the journey, when work was abundant. The C.C.E.G. (Confederation Compagnonnage Europèen) was founded to create a European roof organization. In the beginning of the 80´s an economic downswing occurred bringing young men again on the road.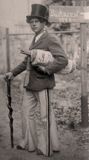 At present we are a healthy number of men, an organization that has profited by the unification of the two Parts of Germany. It is a joy to preserve a living legacy and tradition.
Long live the "Fremder Freiheitssschacht."